We are here to make your decision making process as easy as possible!
We have compiled the most frequently asked questions from our passengers and listed them here for your convenience. If you don't see the answer you're looking for, call (800) 334–2630 and speak to one of our knowledgeable reservation coordinators who will be happy to assist you.
---
---
Is a Passport required for this cruise? No, U.S. passengers will be required to have proof of citizenship in the form of a valid passport, or a certified copy of a birth certificate along with a valid government issued photo ID such as a driver's license. Passengers without proper identification may be denied boarding and are not eligible for a refund. For more information or to obtain a passport application, visit www.travel.state.gov. Foreign nationals should contact their respective governments to obtain further details.
Can TTI help with Airline Arrangements? Templeton Tours can arrange airline reservations for you. Please call us for a quote on round trip airfare when your travel plans are firm. Actual ticket price is determined at the time payment is made and tickets are issued.
What about Hotel Accommodations? Templeton Tours can arrange hotel accommodations for you before or after the cruise. We have a block of rooms at a special rate at the DoubleTree Tampa Westshore. Please call 1-800-334-2630 for details.
What is the Physical Address for the port of Tampa?

Cruise Terminal #3
815 Channelside Drive
Tampa, FL 33602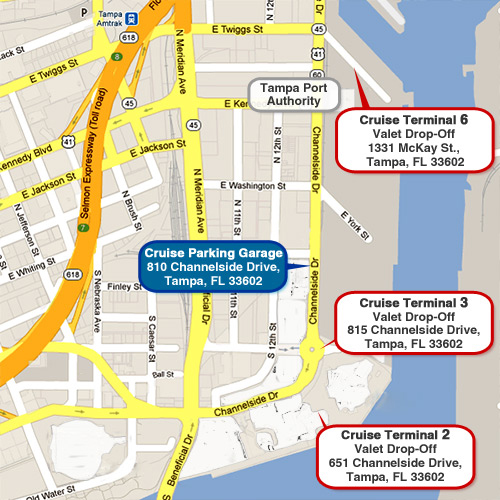 Where can I park my vehicle for the cruise?
Port Tampa Bay has 3,480 parking spaces available to the public; 2,519 covered parking spaces and 1,316 uncovered parking spaces. All of the parking is monitored by our security department 24 hours a day. Parking is located at 810 Channelside Drive Tampa, Florida 33602 Phone: 813-905-5072

Self-Parking 5-Day Parking for one vehicle $75.00
Valet Parking 5-Day Parking for one vehicle $95.00
Oversized Parking 5-Day Parking for one vehicle $150.00

Please note: Parking rates, terminal assignments and schedules are subject to change without notice.
Will I Get Seasick? Seasickness is very rare on ships as large as ours. All our ships are equipped with stabilizers which are designed to keep them smooth and steady in the water. If you should feel queasy, medicine is available from your cabin steward, the Information Desk or from the doctor.
Can I use my cell phone on the cruise? Yes, cell phone service is available onboard the ship. International Roaming rates will apply, so check with your cell phone service provider to determine what the charges will be. Texting is the most economical way to communicate with loved ones while cruising.
Is There a Doctor on Board? Yes, a qualified physician and nurse from our medical staff are on call 24 hours a day. Infirmary hours for medical examinations can be found onboard. A professional fee will be charged. If you should come down with a contagious disease, or even suspect a contagious disease, it is compulsory that you report it to the ship's doctor for the safety of everyone on board. Should you be on any medication, or want the medical staff to be aware of any special needs, please contact our infirmary. This will ensure they will be prepared should you need assistance. Our doctors are independent contractors.
Medications? Please carry your required medication in your pocket or purse so that it will be available when needed. Checked luggage may not be accessible at all times. If you're using any prescription drugs, vitamins or other medication on a regular basis, you should bring an adequate supply with you since these may not be readily available either aboard ship or in our ports of call. Commonly used medications may be purchased at the office of the ship's doctor.
Does the ship offer Internet Service?
Yes, there are 2 options to stay connected while onboard.
1. Wireless VOOM Internet Access (Wi-Fi)
All you need is a wireless device with wifi capability.

2. Wired (iCafes)
Internet stations are available onboard, the location of which vary depending on the ship.
Prices for internet access vary and are subject to change. Log on to the to the network "royal-wifi" using your device, open your browser and follow instructions to log on.
What About Electrical Appliances? Bring them with you by all means. Staterooms on the Enchantment of the Seas are equipped with both North American standard, 110 volts AC and standard European 220/230 volts AC outlets.
Are There Baby-Sitters? Babysitting is offered both in a group setting, and individually in your stateroom. In stateroom babysitting must be reserved through the Guest Relations Desk (Purser's Desk) at least 24 hours in advance. It cannot be reserved prior to the cruise vacation and there is no guarantee that sitters will be available. The service is offered between 8:00 am and 2:00 am when personnel is available. Sitters will be assigned on a first come first served basis. Children MUST be at least 1 year old. Approximate Rate: $19 per hour for up to three children within the same family. Times and prices are subject to change without notice. Payment will be made using your onboard SeaPass card.
Are there planned activities for kids? There are a huge variety of activities onboard and excursions on shore, so you can explore and have fun as a group or break out and do the things you each love most. Onboard, our Adventure Ocean Youth Program offers adventure (and education) for kids ages 3-17 with different activities and programs for different age groups.
Tipping? Gratuities will be billed in addition to the cost of your cruise. The gratuities are for the following personnel:
Dining Room Maitre d'
Dining Room Head Waiter
Dining Room Waiter
Dining Room Assistant Waiter
Room Steward
Other personnel, such as Bar Waiters, Bellboys and Deck Stewards maybe tipped as service is rendered.
Photographic Experiences Remember to keep smiling! You never know when the Ship's Photographer may take a candid picture of you. The photos will be on display and are available for purchase. Special requests can be made by appointment and are available for a fee. If you like taking your own pictures, film for cameras is on sale in the duty-free shop. One-day developing service is available on board ship. See the Photo Gallery Office for details. Please see Photographic Experiences for more information.
Birthdays and Anniversaries If you're going to celebrate a birthday or wedding anniversary during your cruise, please let the Maitre d' know.
What to Do With Your Valuables? Staterooms on the Brilliance of the Seas have safes where you can store your valuables. Safety Deposit boxes are available at the Guest Relations (Purser's) Desk. This service is free of charge unless the key is lost. A nominal fee will apply for any lost keys. Safety deposit boxes are available on a first come first serve basis.
What About Towels? Towels are supplied on deck by the pool, so please don't bring any up from your stateroom.
Will I be able to use my wheelchair or scooter onboard? Yes, the standard door width is 25 inches for staterooms. The Brilliance of the Seas also has staterooms designed to accommodate guests with mobility disabilities and other disabilities. Please inform Templeton Tours if you have any special requirements, 1-800-334-2630.
Are there restrictions on traveling with an infant or traveling while pregnant? Yes, the cruise line does not accept bookings for infants 6 months or younger on the date of sailing, or from women who will be 25 or more weeks pregnant prior to the conclusion of the cruise.