We are here to make your decision making process as easy as possible!
We have compiled the most frequently asked questions from our passengers and listed them here for your convenience. If you don't see the answer you're looking for, call (800) 334–2630 and speak to one of our knowledgeable reservation coordinators who will be happy to assist you.
---
---
What have passengers said about our Holy Land tours?
To anyone that is thinking about using the Templeton Tour company I want to share my experience of going on a 10 day tour of Israel. It was a great trip and I can highly recommend Templeton based on my experience. I can not say enough good things about every phase of the trip. There were no hidden charges, everything was provided right down to free water on the bus every day. The hotels we stayed in were 5 star and we were provided every meal, they too were A number one. Our tour guide and bus driver were the best Israel had to offer. I say it was a BABY BEAR TRIP, just right.

This may sound like a paid advertisement but I want to share how pleased I was with everything and would give them the highest rating possible. I hope you will give them your business, I sure wasn't sorry I did.

Sue Palko,
Frankfort, Kentucky.

We are glad that we made the decision to visit Israel once again and this time with Templeton Tours. There was a good variety of places to see and activities to engage in. We saw many things that we had not seen in previous tours and especially enjoyed the outdoor natural aspects and the brevity of monuments and churches and shrines. The pace was perfect for us - busy, but not rushed or dawdling.

We would certainly use Templeton Tours again if they are all like this one. We found that it was wonderful to have all of the money handled for us.

Now to process all that we have seen and heard, and to encourage many others to experience this as well as to bless Israel and be blessed - that is our challenge!

Sincerely, Jay and Martha
Paradise, PA
---
Is a Passport required for a Holy Land tour? Yes, Each person – regardless of age – must carry a passport that is valid for six months after the scheduled return date. For example, if your tour is scheduled to return on June 30, 2022, your passport must be valid through December 30, 2023 or later. At the time of printing no visas are required for U.S. Citizens. For more information or to obtain a passport application, visit www.travel.state.gov. Foreign nationals should contact their respective governments to obtain further details.
Is there a travel warning for travel to Israel? The United States Department of State has issued a travel warning for travel within Israel, the West Bank, and Gaza Strip. The warning basically encourages Americans to remain vigilant while traveling in Israel. This warning has been in effect for the better part of 25 years, even though the wording has been changed periodically. For up-to-date in-formation on this travel warning go to the US State Dept Travel Advisory website Travel.State.Gov.
Is it safe to travel to the Holy Land? When considering safety in the Holy Land it is important to note that terrorists have not specifically targeted American tourists within Israel. Also note that airport security for all flights going into and coming out of Israel is very thorough. Tel Aviv's Ben Gurion International Airport is recognized as the most security-conscious airport in the world. Tour bus drivers are in constant contact with their headquarters. The tour operators monitor any potential trouble spots. If there is a "hint" of a problem, the tour operator will contact the driver and reroute the group to avoid the area.
Are there restrictions on children taking this tour? No, however due to the amount of walking and the indepth historical lectures given at the sites, we do not recommend this tour for children under 12 years of age.
Can I receive good medical treatment if I become injured or ill during my tour? If you are injured or become ill during a tour, the local tour guide can contact a doctor to come to your hotel room to administer treatment. The concierge at the hotels can also contact a doctor to treat a guest. If you need to be hospitalized in the Holy Land, you can rest assured in knowing that the hospitals are well equipped and are staffed with friendly, English-speaking doctors and nurses. Passengers who have been treated at these hospitals on previous tours have been very complimentary of the medical service provided. Please note that if you must be treated at a hospital in the Holy Land, you will be required to pay for your medical care in advance. However, the hospital will provide the patient with a detailed statement of services rendered at the hospital. This statement can be filed with an insurance claim when the passenger returns from his or her tour.
Is travel insurance required? Yes, you are required to provide proof of Medical Trip Insurance when traveling to Israel. Trip insurance is offered through Travel Guard International (http://www.travelguard.com). The premium is based on your age and the cost of the tour. You will receive an application for trip insurance in your confirmation packet. All Holy Land tours carry cancellation penalties so trip cancellation insurance is also recommended.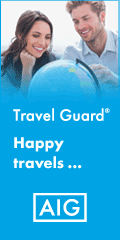 What kind of weather can I expect? The Holy Land is filled with warmth and sunshine from April to October. Weather from November to March is mild, with sunny days between periods of rain. The chart below shows the average temperatures by month (Minimum to Maximum):
| | | | | | |
| --- | --- | --- | --- | --- | --- |
| | | Jan | Apr | July | Oct |
| Tel Aviv | F° | 50-65 | 54-72 | 70-86 | 59-84 |
| Tiberias | F° | 48-65 | 56-80 | 73-98 | 65-89 |
| Dead Sea | F° | 52-68 | 68-84 | 82-102 | 75-90 |
| Jerusalem | F° | 43-53 | 53-69 | 66-83 | 60-78 |
What type of clothing will I need to take? Israel is very informal so there are no real dress-up occasions – even for Sunday. Thus, casual clothes are the order of the day - with modesty for both men and women. Some sites on our itinerary will not allow you to wear shorts, sleeveless tops, etc. Your tour guide will let you know if shorts or sleeveless tops are appropriate. You should bring things you can coordinate and accessorize. It gets quite warm and sunny around the Dead Sea so you should pack a hat or visor. The winter months (November to March) are generally mild; however, snowfall is possible in some areas. It is good to pack clothes that can be layered in case the weather should turn cold or wet.
How can I find a doctrinal statement for a tour host? The link to our Holy Land web site (http://www.templetontours.com/holyland/index.shtml) provides information for the Tour Hosts. By clicking on the host's name you will be taken to a web page for the host's church or personal web page. Most of these pages provide a "what we believe" or "about us" link that will give a brief summary of the pastor's beliefs and/or his church's statement of faith.
What do the initials "B/L/D" in the itinerary mean? "B" = Breakfast "L" = Lunch "D" = Dinner
How should I handle my Medications? Please carry your required medication in the original container in your pocket or purse so that it will be available when needed. Checked luggage may not be accessible at all times. If you're using any prescription drugs, vitamins or other medication on a regular basis, you should bring two week supply with you since these may not be readily available during the tour.
What kind of food can I expect? Most meals will be served in kosher restaurants. Kosher is a term that refers to certain types of food. It is also a term that describes how certain foods are prepared. For example, kosher regulations forbid pork or shellfish in any form. Also, meat and dairy products cannot be mixed. This means that in a kosher restaurant, you will not be served cheeseburgers or pizzas with meat toppings. That also rules out butter, cream, and cheese with meat meals, though they may be eaten at other times. For a complete explanation of kosher dietary laws, click on http://www.jewfaq.org/kashrut.htm. Typical meals include fish, turkey, chicken, and some beef, along with white rice, fresh vegetables, and fruits. Breakfasts and dinners are generally served at the hotel and are buffet style. Lunches are at restaurants en route while sightseeing.
Is it safe to drink the water? Water is safe to drink in restaurants and at the hotels in Israel. We do not recommend drinking water at tourist sites. If you are traveling to Jordan, Egypt, or other middle-eastern countries, you should avoid ingesting tap water at all costs – even when brushing your teeth! Templeton Tours provides bottled water and soft drinks to our passengers without charge during the hours you are touring. Bottled water and soft drinks are also available at the hotels for $3.00 - $4.00.
Is there a lot of walking involved? YES. Even though the tour bus can pull very close to the entrance of most sites, there is a lot of walking on a Holy Land tour. Israel is a land of hills and valleys, and you will walk up and down many of them. Many sites are archaeological sites that are hundreds – some thousands – of years old so the terrain at these sites is often rough and rocky. Some sites also have steps and others have steep inclines that need to be navigated. It is strongly recommended that you begin exercising early to condition yourself. Also know that the most important part of the wardrobe is footwear. The more comfortable the shoes, the better – forget about looks this time! You should not take a pair of shoes that have never worn. New shoes can often cause blisters.
Are the tour buses equipped with bathrooms? The buses in the Holy Land are not equipped with bathrooms. However, the tour guides allow extra time at each site for you to use the facilities.
What about handicap accessibility? The tour buses and tourist sites are not accessible by wheelchair, so persons in wheelchairs or persons with impaired mobility will not be able to participate. Also, due to the difficult terrain and the ampount of walking, persons requiring oxygen or oxygen therapy are not admissible on the tour.
How many people can stay in one hotel room? Each hotel room has two twin beds but some rooms are equipped with a twin sleeper sofa bed that will accommodate a third passenger. No hotel rooms can accommodate more than three passengers.
Can you control the temperature in the hotel room? Each hotel room is equipped with a thermostat so you can control the temperature in your rooms.
Do the hotels offer Internet Service? Yes, typically the hotels offer complimentary WiFi internet service.
Will I need an electrical adapter?. Templeton Tours will provide a plug adapter to each passenger that will allow you to plug-in a device with a U.S. style plug. The adapter should only be used with devices that can accept 110-220v as listed on the device. Most modern cellphones and cameras are designed to accept voltages between 110-220v. If you are using a device that only accepts 110v, then you will need an adapter kit that converts the 220 volts down to 110v. These adapters can be purchased at an electronics store or online. Israel uses a Type H electric plug
Will I need any vaccinations? At this time, no vaccinations are required for visiting Israel. Covid-19 protocols may require testing before & during the tour, and/or masks & social distancing. Passengers registered for the tour will receive updates on Covid-19 protocols as they become available.
What are some extra measures I can take to further ensure my safety? You should avoid wearing articles of clothing that advertises your nationality, religion, or actively identifies you with one side or the other in the current Middle East conflict. Also, you should travel in a group and avoid the areas that are prone to unrest.
How much would a first/business class airline ticket cost? The price will depend on when you purchase the ticket and the city from which you are traveling. Prices typically run from $4,000 - $9,000 per ticket. TTI will work to find you the best schedule and price that is compatible with the tour. Airline prices tend to increase the closer to the tour departure date. You will receive an airline credit if you do not use the coach-class airline ticket included in the tour price. Please consult the brochure for your specific tour for airline credit amount and dates for notifying TTI of your decision not to use the included coach-class ticket.
May I earn frequent flyer credit? If you have a frequent flyer account you may earn miles for flights. If not already a frequent flyer with the airline or one of it's partner airlines, then visit the airlines website to register for their frequent flyer program.
How much money should I take? You should plan to bring $50-$100 in small denominations (1's and 5's) to purchase snacks or inexpensive souvenirs from street vendors. Any large purchases of jewelry, art, etc. should be made using a credit card. Most stores accept these major credit cards (AMEX/Visa/MC).
What is the local currency? The currency in Israel is the Shekel (ILS). Most shops are happy to accept US currency, and usually post prices in US dollars for your convenience. Current exchange rates can be found by going to http://www.xe.com/ucc/.
What is the time difference? Israel is 7 hours ahead of the Eastern Time zone. For example, when it is 12:00 noon in the eastern United States, it is 7:00pm (same day) in Israel.
How long does it take to fly to Tel Aviv? If you travel on a non-stop flight from New York to Tel Aviv, the flying time is approximately 9.5 hours. If you travel on a non-stop flight from Charlotte or Atlanta to Tel Aviv, the flying time is ap-proximately 11 hours. Flying time from Tel Aviv to New York is approximately 11 hours. It takes approximately 13 hours to fly from Tel Aviv to Charlotte or Atlanta.
Is photography allowed during the tour? Most of the sites visited during the tour will allow both photography and video. There are select locations in some museums and churches where photography is not allowed. Your guide will inform you when you are visiting a site where photography is not permitted.
Who is responsible for teaching me about the Holy Land? There are two people involved in teaching you about the Holy Land. One person is a local tour guide who has been licensed by the Israel Government Tourist Office. This tour guide is the group's primary contact in the Holy Land. He (or she) is responsible for teaching you about the historical, geographical, and archaeological significance of each site you visit. The tour host is a pastor of a local church or a full-time evangelist who will give the spiritual significance of each site. The host will read the Bible passage(s) that relate to the site you are visiting. He will also select a number of sites where he will lead private services with the group. Some of the sites where private services are held are Caesarea by the sea, the Sea of Galilee, Mount of Beatitudes, Gideon's Spring, the Garden of Gethsemane, and the Garden Tomb. However, each host has a different set of "favorite sites" so the private services may vary with each group.
Do you know any good books about the Holy Land that you can recommend? Here are two excellent resources if you are interested in reading about the Holy Land: Bible Country: A Journey through the Holy Land by Woodrow Kroll, The Christian Traveler's Guide to the Holy Land by Charles H Dyer and Gregory A. Hatteberg.
Describe a typical day on a Holy Land tour. A typical day in the Holy Land begins with a wake-up call at 6:00am. Breakfast is usually served in the hotel dining room beginning at 6:30am. The bus will depart the hotel between 7:30am – 8:00am. During the day you will visit bewteen 5-10 different sites. A served sit-down lunch will be provided at a local restaurant while touring. The bus returns to the hotel between 5:00pm – 5:30pm. Dinner is usually served in the hotel dining room beginning at 6:30pm. Because of the long touring days, most tour hosts do not schedule evening activities for the group.