Imagine the luxury and comfort of vacationing on a floating resort, while at the same time enjoying great Southern Gospel music. TEMPLETON TOURS has chartered Carnival Cruise Line's Fascination for this Southern Gospel Music Cruise. The bars, casinos, and slot machines are closed and the ship's entertainers are replaced by THE BEST IN SOUTHERN GOSPEL MUSIC along with inspired preaching of the gospel. Everyone onboard will be a part of this Christian cruise vacation.
The Fascination features beautiful lounges, a nine-hole putt-putt, a world-class spa, duty free shopping, a beauty salon, and a resort style pool. Cruises are famous for spectacular meals, and the Fascination is no exception. From the 24-hour pizzeria to fabulous five-course meals, it's all included in the price of your cruise.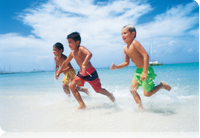 The Fascination offers a complete children's program with supervised activities for ages 2-15 each day. Kids will enjoy treasure hunts, games, ice-cream parties, and the Carnival Waterworks complete with a four-story waterslide, two speed slides, and a children's spray park.
While the kids enjoy supervised activities, you can enjoy great Southern Gospel Music. This is the perfect vacation for a Christian family. Our adventure begins in the port city of Jacksonville, Florida where we board Carnival Cruise Line's ms Fascination and set sail for the Bahamas. Our first stop of the cruise will be Freeport, on Grand Bahama Island. Enjoy a shore excursion, golf at nearby island courses or shop in the local bazaar. Wednesday we visit the private island of Half Moon Cay. There you can enjoy a day at the beach or take advantage of shore excursions to include: water sports, snorkeling, parasailing, scuba diving, and deep sea fishing. Thursday morning we arrive at the capital city of Nassau. There you can visit the world famous Straw Market, tour the historic city sites, take a trip to the world's largest saltwater aquarium at the Atlantis Resort, or just kick back on a sun drenched beach. Friday will be a day at sea filled with shipboard activities and more great music.
All this plus...Christian Fellowship, comedy, preaching, and Great Southern Gospel Music every day. The week is yours to relax and enjoy vacationing in a Christian atmosphere.