Chania is the second largest city of Crete and one of the most beautiful cities on this island.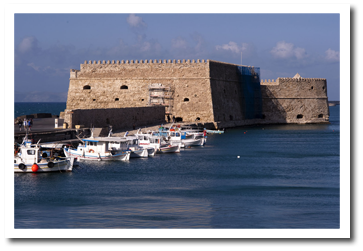 It is the site of the ancient Minoan settlement the Greeks called Cydonia (Kydonia). The site has been continuously inhabited for at least 5000 years. The city's rich history can be traced through historic buildings and monuments with Venetian, Turkish, and Greek architecture.
The day is at leisure for you to explore the ancient city of Aptera or the Firkas Fort, which boasts a panoramic view of the Venetian Harbor and the spectacular Venetian lighthouse.
The One Thing You Don't Want to Miss
Wander through the fascinating layers of Chania's history with a visit to the Old Town. The Venetian Harbor and narrow, picturesque roadways retain the distinctive atmosphere of the city's Venetian and Turkish periods. The large 16th century Venetian church, Aghios Frankiskos is an impressive site and home of the Archaeological Museum of Chania.
Other Fun Things to Do
Explore the site of the ancient city of Aptera, once an important Minoan city believed to be built around 700 BCE. The remains of the city walls can still be seen surrounding the 12th century monastery and impressive 19th century Turkish fort also built on the site. A marvel in and of itself, the Firkas Fort, constructed in 1629 and current home to the Maritime Museum of Crete, boasts a panoramic view of the Venetian Harbor and the spectacular Venetian lighthouse. Be sure to bring your cameras. Relax on Chrisi Akti beach, one of the most beautiful in Crete.
Get a Taste of Local Flavor
Be sure to stop by Bougatsa Iordanis the originators of the Chania bougatsa. Bougatsa, phyllo pastry filled with a creamy cheese filling, is a local favorite. Chaniá bougatsa is unique from other bougatsa in Greece, perhaps because of its use of fresh, sweet mizithra cheese.
Shopping for Bargains
Skridloff (Leather Street) is one of the most popular shopping destinations in Chania and features a large selection of leather goods and souvenirs. For something more unique, venture into the shops along Anghelou or Halidon Street or visit the Local Artistic Handicrafts Association at the juncture of the old and new harbors.
Local Currency
The Euro (EUR), the currency of the European Union, is the official currency of Greece. Many stores and restaurants also accept major credit cards, which usually offer you a good exchange rate. When shopping, remember there is a Value-Added Tax added to most purchases.
Weather in Chania (Souda), Crete, Greece
Average High 81°
Average Low 64°