Athens, the birthplace of Western civilization and one of the world's great historical sites, stands on a plain between the mountains and the sea, about five miles from the harbor at Pireaus.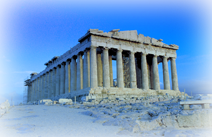 Our tour of this this historic city will start at the Parthenon. Serving as a temple to pagan gods during ancient times and a storehouse for ammunition during more recent times, the Parthenon is perhaps the region's most recognizable historic monument. We will also visit Mars Hill where Paul addressed the Athenians (Acts 17:22-34). After Scripture reading on Mars Hill our guide and driver will take us on a driving tour of Athens where we will see the Ancient Agora, Tower of the Winds, Herodes Atticus Theater, Theater of Dionyssos, and the Temple of Zeus. We will also pass the Tomb of the Unknown Soldier, the Royal Palace, the University of Athens, the Academy of Athens, and the National Library. We will stop at the "Panathenian" Olympic Stadium for a photo stop and a chance to jog a lap around the track. After lunch you will get a chance to explore the old section of Athens known as the Plaka District. You will stroll through the narrow pedestrian streets, stop for coffee, or hunt for bargains in the shops.
Local Currency
The Euro (EUR), the currency of the European Union, is the official currency of Greece. Many stores and restaurants also accept major credit cards, which usually offer you a good exchange rate. When shopping, remember there is a Value-Added Tax added to most purchases.
Weather in Piraeus (Athens)
Average High 75°
Average Low 61°